Would you like to know more about the plants Edward Bach used to make his remedies?

A webinar with Nicola Hanefeld, BFRP, trainer.
Dates and time 11 and 18 February 2024, 1:30pm-4:00 pm, London time, 14:30h-17h Berlin time (I live in Germany but am English) – with breaks!
Recognising Edward Bach's plants in winter and summer.
Join this Bach Centre approved workshop to deepen your understanding of the Bach flower remedy system. The plants used to prepare the Bach flower remedies all (apart from one) grow in the wild. The webinars will help participants to recognise the Bach plants and their flowers when out in Nature. In two 2.5 hour interactive Zoom meetings, Nicola will share her photos of these special plants throughout the seasons and add interesting botanical details. Participants will be given access to a collection of 35 high-quality Bach flower photos for their use and receive a BC-ACE certificate of participation from the Bach Centre. Nicola studied botany many years ago and has been a Bach Foundation Registered Practitioner since 1997. She has been teaching Bach Centre approved courses since 2002.
Cost €40 payable via PayPal or Bank transfer. (Please add 5% fees to PayPal transfers.) I send an invoice about a week before we start, no deposit is needed. If you have to cancel at short notice, I understand and will refund your fee.
If you have questions about joining the course, please send Nicola an email: Diese E-Mail-Adresse ist vor Spambots geschützt! Zur Anzeige muss JavaScript eingeschaltet sein!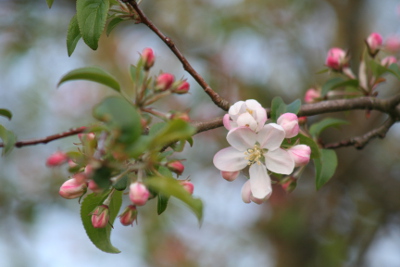 Recognising the Bach Plants in Winter and Summer – Nicola Hanefeld BFRP
Course report, Caroline Stone, BFRP - participant in 2020.

Nicola's course took us on a botanical and anecdotal journey, visiting the 36 flowers and trees from which the Bach flower remedies are made. We were 50 participants from 17 countries, which gave the course an interestingly international flavour. Participants avidly shared their stories relevant to the plants in their own countries, whilst the Zoom Chat constantly popped up with interesting facts and curious questions.
The flowers and trees came to life and took on a personality of their own, as Nicola's teaching style was a wonderful mix of interesting botanical facts sprinkled with personal stories. The glorious photos, mostly taken by Nicola, helped us to understand where to look and what to look for in nature if we wish to discover the flowers for ourselves.
If I have left you wondering why Nicola only talked about 36 plants, then I happily do so. Nicola's course is running again in February 2024, so I can definitely recommend you sign up for it and find out for yourself. It just wouldn't be fair of me to spoil all her stories and curiosities for you now would it? 😊
Caroline Stone, BFRP